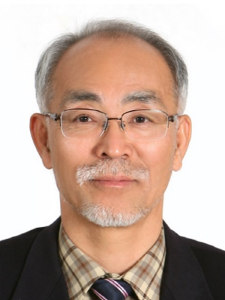 김기선 Kiseon Kim
LAB NAMECommunications and Sensor Networks Lab.
E-MAILkskim@gist.ac.kr
TEL062-715-2207
FAX062-715-2274
RESEARCH FIELD
Digital communication theory and applications
Multimedia communication signal processing and its VLSI implementation
Telemetry system equipment and measurement
Digital MODEM development for broadband
EDUCATION
University of Southern California, Los Angeles Doctor (1987)
Seoul National Univ. Master (1980)
Seoul National Univ. Bachelor (1978)
WORK EXPERIENCE
Superconducting Super Collider Lab. Computer Communication Specialist (1991 ~ 1994)
Schlumberger Inc. Senior Development Enginer (1989 ~ 1991)
Communications Sciences Institute Research Scientist (1987 ~ 1989)
HONORS_AWARDS
Kiseon Kim,임승관, 김광희, 송홍기, 이하동, 전동 휠체어의 제어장치 , 대한민국 특허 (2011.10.12)
Kiseon Kim,임승관, 최무진, 박정회, 박종서, 임병현, Defibrillator , 대한민국 특허 (2010.03.12)
Kiseon Kim,이정아,이정근,김석진, Mixed-type Adder Comprising Multiple Sub-adders, Each of Which Has Different Carry Propagation Scheme , EU (2009.08.05)
Kiseon Kim,김기선, 이정근, 김석진, 혼합형 가산기 , USA (2009.07.14)
Kiseon Kim,윤창호, 이현주, 휴리스틱 트래픽 로드 밸런스된 채널 공유 방법과 장치, 상기 채널 공유 방법을 이용한 매체 접속 방법, 상기 채널 공유 장치를 이용한 매체 접속망 시스템 그리고 상기 방법들을 수행하는 프로그램이 기록된 기록 매체 , 대한민국 특허 (2009.06.01)
Kiseon Kim,, 무선 단말기 외장 제어 프로그램 , 대한민국 특허 (2007.08.31)
Kiseon Kim,, MSM 칩 제어 프로그램 , 대한민국 특허 (2007.08.31)
Kiseon Kim,, 이동통신 단말기 통신접속 지원 프로그램 , 대한민국 특허 (2007.08.31)
Kiseon Kim,이정아,이정근,김석진, Mixed-type Adder Comprising Multiple Sub-adders, Each of Which Has Different Carry Propagation Scheme , 대한민국 특허 (2007.04.26)
Kiseon Kim,여건민, 신석주, 유병한, 최두정, 다중 송수신 안테나를 가진 폐루프 시공간 블록 부호화시스템의 송수신 장치 및 그 방법과, 그 시스템에서의 송신 전력 할당 방법 , 대한민국 특허 (2006.07.03)
Kiseon Kim,이호경, 김창중, 허동규, Supper-Orthogonal Convolution Coded Ultra Wire-Band Impulse Radio System by Using Interleaving and Coded/Decoded Method , 대한민국 특허 (2006.06.19)
Kiseon Kim,이호경,선왕석, MPSK에 적용되는 터보 TCM의 부호기 설계방법 , 대한민국 특허 (2005.12.01)
Kiseon Kim,, Smart Card 인식기용 Program , 대한민국 특허 (2005.11.17)
Kiseon Kim,, Smart Card 인식용 Server Program , 대한민국 특허 (2005.11.17)
Kiseon Kim,이호경, 김창중, 인터리브된 라이시안 페이딩 채널에 적합한 비동기식 다중격자 부호화 연속 위상 변조기의 격자 부호화기 설계방법 , 대한민국 특허 ()
Kiseon Kim,, AMR-SMALLSERVER-KJIST-2002-10 , 대한민국 특허 ()
Kiseon Kim,, AMR-SENSORDVK-KJIST-2002-10 , 대한민국 특허 ()
Kiseon Kim,, AMR-VIEWER-KJIST-2002-9 , 대한민국 특허 ()
Kiseon Kim,, AMR-COLLECTOR-KJIST-2002-9 , 대한민국 특허 ()
Kiseon Kim,, AMR-SENSOR-KJIST-2002-9 , 대한민국 특허 ()
Kiseon Kim,김경수, 안지환, 이훈, Method for maximizing cellular capacity in muti-media CDMA system , USA ()
Kiseon Kim,김경남, 컴퓨터비전기반의시선추적방법 , 대한민국 특허 ()
Kiseon Kim,김경수, 안지환, 이헌, 멀티미디어 코드분할 다중접속 시스템의 셀 용량을 최대로 하는 방법 , 대한민국 특허 ()
Kiseon Kim,김동숙, 무선 이동 단말에서의 트래픽 제어 방법 , 대한민국 특허 ()
INTRODUCE
About Comunications and Sensor Networks Lab. in GIST
Communications and Sensor Networks Lab. (CSNL) was established in 1995 as a laboratory within the Department of Information and Communications in GIST.
Currently, CSNL is guided by Prof. Kiseon Kim, and consists of Ph.D. students and candidates, Masters Students, and Post-Doc researchers.
We are working on Sensor networks, Bio-signal processing, as well as communication theory and applications.